Dental X-Rays With Smart Family Dentistry
Not all dental problems are able to be identified by the naked eye, and sometimes require an x-ray machine to determine whether or not there are potential threats to your teeth.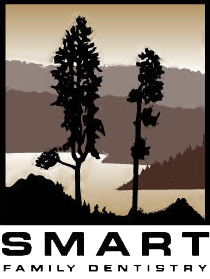 What Are X-Rays?
X-rays are types of electromagnetic radiation, used in all walks of the medical field, as a means to see through the skin, muscle, and tissues, directly to the skeletal bone structure. Primarily used to identify ailments, x-rays have a long history of use. Due to their penetrative nature, x-rays are used primarily for identifying structural abnormalities or issues. Discovered in 1895, by Wilhelm Conrad Roentgen, x-rays were the discovery that led to the very first Nobel prize awarded for physics. 
Intraoral x-rays are the most common type of dental x-rays. Using a small x-ray digital sensor inside the mouth, a penetrative picture is made as a means to identify problems with teeth. Extraoral x-rays are penetrative pictures that focus primarily on the jaw and skull. This provides a small window into the structure of the skull and helps the dentist gather information used for a healthy jawbone and healthy teeth. Dentists use oral x-rays for many reasons:
Detect Cavities - X-rays are a wonderful tool for detecting growing cavities inside of teeth. With their penetrative abilities, dentists are able to use x-rays for detecting dark spots inside of teeth, 
Monitor Developing Teeth - Sometimes developing teeth can come in under existing teeth, causing problems down the road, x-rays can be used to monitor developing teeth as they protrude into the mouth, making it possible for dentists to take preventive action.
Monitor Dental Health - As well as checking in on developing teeth, x-rays are commonly used to monitor the overall general health of the teeth and jawbone. Using extraoral x-rays, a dentist can detect an impacted tooth, a problem with the jawbone, or any potential problems between jaws and the temporomandibular joint, or TMJ.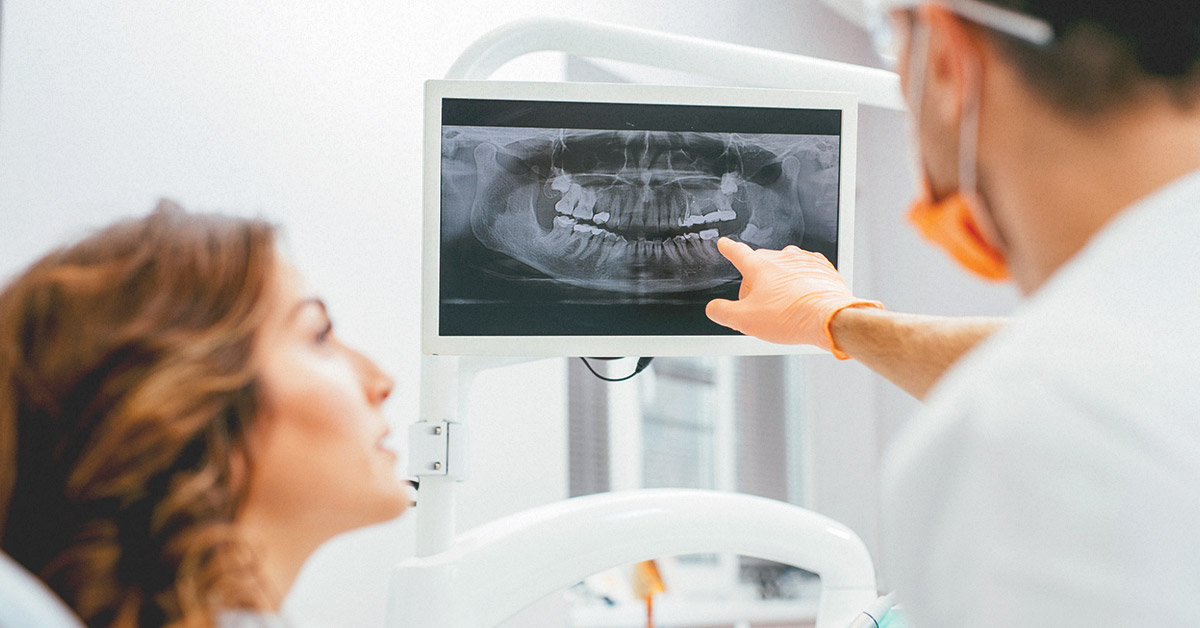 What Types Of X-Rays Are There?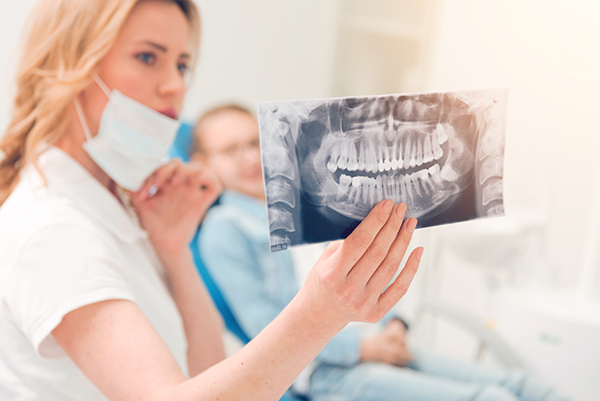 Bite-Wing X-Rays - Bitewing x-rays are used to monitor the upper and lower teeth in a particular area of the mouth, as well as detect any areas that may be afflicted by gum disease. Bitewing x-rays are especially effective at detecting decay in between teeth.
Periapical X-Rays - Primarily used for detecting any abnormalities with root structure or isolated problems within the bone stemming from a problem tooth, periapical x-rays focus on a small section of the jaw. With a focus on the entire tooth, from the crown to the root, a periodical x-ray will show the full dimensions of a tooth, and can even help discover problems with jaw structure.
Occlusal X-Rays - For use on either the top or bottom half of the jaw, occlusal x-rays reveal the entire arch of teeth. This helps dentists identify any issues with full tooth development and placement.
Panoramic X-Rays - Panoramic x-rays are used to show the entire mouth. All teeth are visible, top and bottom, all the way around. Along with aiding with the detection of tumors, panoramic x-rays can be helpful for locating impacted teeth or identify emerging teeth as well.