Dental Sealants With Smart Family Dentistry
The world of preventive dentistry has many different procedures to offer such as sealants, cleanings, fluoride treatments, x-rays, and routine dental exams.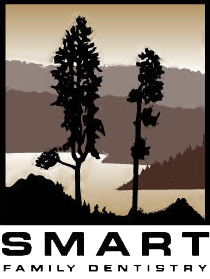 What Are Dental Sealants?
A dental sealant is a thin plastic-like material, generally used to coat, freshly protruding, first and second, permanent molars. Sealants, although they are no substitution for brushing and flossing, act as a safety net for your molars and can help reduce the risk of cavities on the biting surfaces of the teeth by up to 80%. Due to this, sealants have become increasingly important, but especially so in children's dentistry.
Sealing molars when they first protrude can be the defining factor in good long-term oral hygiene, and a cavity free mouth.
Much like dental bonding, dental sealants are applied to the teeth directly after a light cleaning. A small acidic gel is placed on the tooth, which helps solidify the bond between the tooth and the sealant. After a few seconds, the excess gel will be rinsed off, and the sealant will be applied and hardened with a bright blue dental light.